Canoepolo beginners: what you need to know about equipment
02 Apr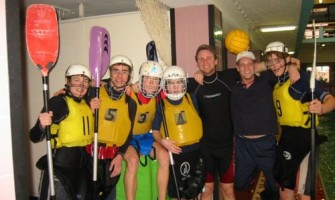 Posted By
0 Comment(s)
3236 View(s)
Starting off with canoepolo can be quite a challenge. While we can't help much with you improving your boat control or developing a lightning fast shot we can offer some guidance in the equipment needs.
Canoepolo boat
There's various manufacturer's, model's and material options. If you're starting as a true beginner I would hope there is some legacy equipment available at your local kayaking club. However, there's a couple things to consider.
Material: canoepolo boats are made as light as possible, while still maintaining enough strength to withstand the full force of kayak-tackles. This means the top-line of kayaks is made of composite materials like carbon and kevlar. These are very light and strong come at a hefty pricetag as well. Take a look at the CPS Strong Top or see the beautiful boats made by DPP-Dynamic as an example. A lot cheaper are kayaks made of Polyester. These are very light as well but quite easy to damage unfortunately. Repairs are fairly easy but you need to know your way around epoxy-resins etc. Ideal material for a beginners- and club boats is PE (plastic). These will last for a decade of heavy abuse and while you will not be able to match the speed of the top level players in their shiny carbon boats you will do fine in the lower leagues. We recommend the EXO XP3's as they have a nice dynamic model allowing easy turning and acceleration. If you want something lighter; check the second hand models typically lying around at larger tournaments.
Model: okay, your main concern at the early point in you canoepolo life should probably be stability. It's the key in all successful moves and if you're tipping over with every throw/bump/wave you will probably not have the best of times in matches. What you're looking for in a model is a relatively flat and wide bottom. More flat surface for you to land on in the water = better stability.
Manufacturer: unfortunately there have been some issues with counterfeit kayaks being produced in recent years. Please remember this is still a very small sport and we should be protecting people that design new boats and help develop the sports. So if you want to buy something new, please check the official ICF Manufacturer's Scheme and see if it's on it.
Canoepolo paddles
Similarly to boats, there are PE, beginner paddles available in the market. I'm not a fan. Your paddle is arguably the most important piece of equipment you will buy as it is key in moving around the pitch (imagine a soccer player on socks). I have not yet seen PE paddles in the market that have a proper blade model, plus the weight difference just became a major issue. You are moving this paddle around for your entire canoepolo session and the extra weight of your paddles will affect your responsiveness, ball control, blocking, acceleration and top speed. Now you do not need to buy a brand new carbon CPS Ultralight paddle or Braca Rapid paddle but there is a middleground as well. Braca produces the Kinetic-60, which utilizes the very popular Kinetic shaped blades and uses 70% carbon/30% fiberglass at a lower cost then the top level blades. Are you on a budget? A second hand can be a good option as well! Pay attention all surfaces and edges are smooth, metal edges are not allowed and your blades need a minimum of 5 mm thickness in order to be scrutineering-proof.
Helmets
Not so much advice on these. Make sure they fit nicely, don't hurt you but cannot move around too much either. It's perfectly fine to use an old whitewater helmet you have lying around and fit it with a facemask (drill three holes and screw on), just make sure you follow the latest ICF rule book regarding safety and follow below image for the helmet and facemask. The temple and the base of the skull need to be protected by the helmet, and the chin and nose have to be safely under the facemask.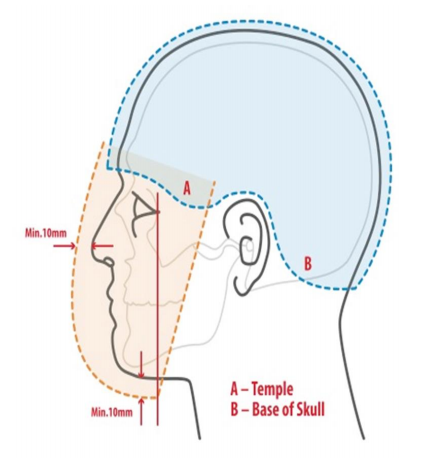 Shorts
Just use your swimshorts for now, don't worry. The fancy neopren pants from PeakUK or LB9 you see around are great when you are spending more and more hours in your boat. The thick material and raised backside protects your knees and lower back.
Shirts
Any shirt will do but something tight like a lycra is recommended. All you need to worry about is that is covers at least the mid upper arm. This is the place you can get pushed over and an wet and oily skin might lead to a slipping arm ending up in your face. As soon as you enter official competitions you need to have the same color shirt as your teammates, so for easiness I'd stick with blacks and whites.