CPS Canoepolo Paddles: Lightest paddles in the world!
13 Oct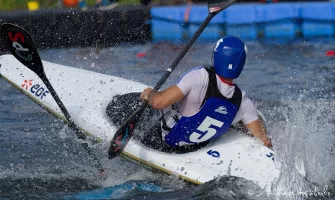 Posted By
0 Comment(s)
1618 View(s)
Perhaps you've seen them; paddles with CPS on the blades. They seem to pop up everywhere... but chances are big you've never held one. In case you're not sure I'm sure you haven't. Why? Because you'd have remembered. The CPS paddles are by far the lightest paddles around. With a weight of 780 to 800 grams they're about 120 grams lighter than a carbon Braca-Sport paddle. That doesn't sound like much, does it? However, if you think about it, it's about 13%.. Still that might not sound like a lot, but wait untill you hold it!

You might think, this extremely low weight might make the paddle fragile. Or perhaps really soft... The answere is nope. The stiffness can be compared to a Braca-Sports paddle and the strength? Well, they are confident enough to provide a 1 year guarantee on blades. That should express some confidence?

CPS offers 2 kinds of paddles; the and the . The spoon is slightly heavier than the Ultralight due to the bigger blade. Both are made completely out of Pre-Preg Carbon. Ralf and I both have a Ultralight available to test. Check 'm out they are now available for purchase!